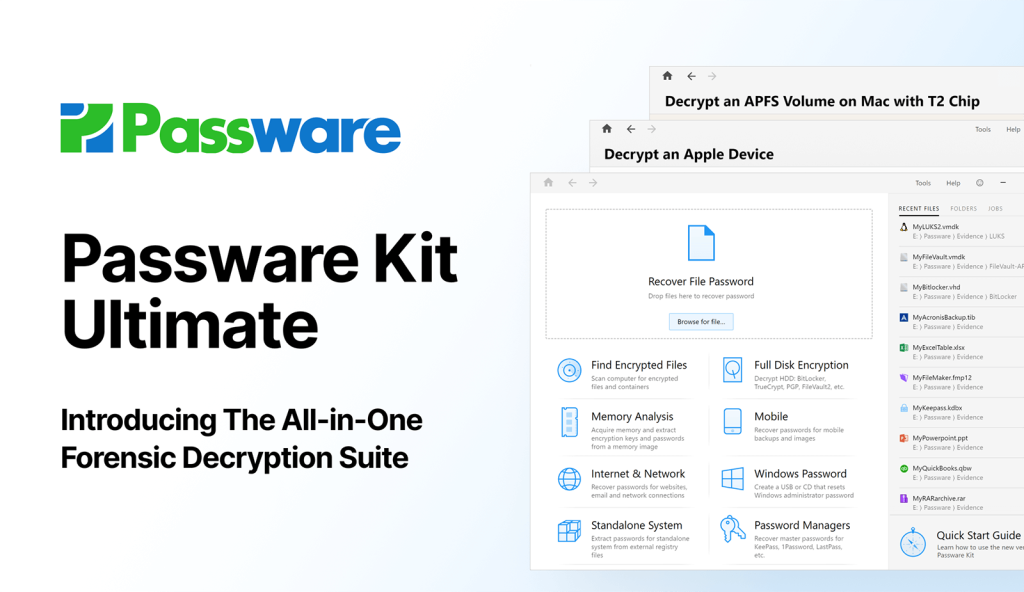 We are excited to announce Passware Kit Ultimate, an all-purpose decryption bundle. It allows investigators to access data from locked mobile devices and computers, encrypted disks and files – all with a single license.
The convenience of having all the decryption tools handy and up-to-date cannot be underestimated. The Passware annual release schedule includes at least four major Passware Kit Forensic and Passware Kit Mobile updates, as well as multiple minor updates and service releases. These products are now maintained as a single Passware Kit Ultimate license. Some of the recent features of Passware Kit Ultimate include:
Support for macOS Ventura
Password recovery and data extraction from 1Password v8
Decryption and data extraction for Samsung Exynos-based devices
Instant decryption of Dashlane on iOS
Support for iOS 15.6 – 15.7
What Passware Kit Ultimate includes
Passware Kit Ultimate includes Passware Kit Forensic, Passware Kit Mobile, T2 Decryption Add-on, 10 Agents for distributed computing, and Passware Certified Examiner Online Training.
The key capabilities are:
Password recovery for over 340 file types
Recovery of passcodes for over 200 mobile devices
Full disk decryption
Decryption of Macs with Apple T2 Security Chip
Live memory analysis
Hardware acceleration on GPU
Distributed password recovery with 10 Agents for Windows, Linux, Amazon Cloud, and Microsoft Azure
Pricing and Availability
Passware Kit Ultimate is available for law enforcement and other types of government organizations and private companies with justifiable business needs, such as forensic firms or corporate investigation teams.
Passware Kit Ultimate is available directly from Passware and a network of resellers worldwide. The price is $3,995 for an Annual license and $11,995 for a 3-Year license. Compared to buying all components separately, users save over 35% on a Passware Kit Ultimate license.
Additional product information is available at:
http://www.passware.com/pku